I know that many of you, my dear readers, understand the importance of nutrients in skincare. Vitamin A (retinol), vitamin B₃ (niacinamide) or vitamin K (phytonadione) – all of them play a key role in keeping skin healthy and clear. But what about vitamin C? Is it equally important?
I'm sure you have some knowledge on vitamin C. If I asked you to give me your associations, you'd probably say that it promotes proper functioning of our immune system and makes teeth strong. Some of you may even know that this nutrient takes an active part in the wound healing process. Can it have more benefits for us? Actually, it can. If we focus only on the skin, it turns out that vitamin C is an incredibly potent cosmetic ingredient of natural origin.
Before listing the key benefits of vitamin C for skin, we need to understand why some skincare products (face serums) enriched with this nutrient work better than others (face creams). Simply put, face serums are highly concentrated formulas, able to penetrate skin deeper to fix it from the inside. Face creams don't have this ability, thus they are less efficacious, yet equally important in skincare. Therefore, if you aim at making the most out of vitamin C, better look for it in face serums.
Vitamin C and its applications in skincare
Let's focus now on why you may want to treat your skin with vitamin C. I'm not going to list all its benefits but give you just the most prominent ones.
Vitamin C promotes collagen synthesis which results in smoother and younger-looking skin.
Vitamin C brightens pigmentation spots, leaving skin even-toned and radiant.
Vitamin C protects skin from free radicals, meaning that it delays ageing.
Vitamin C deals with dullness, sagging and skin fatigue.
Vitamin C minimizes the adverse effects that UV light has on skin.
Good brightening face serum qualities. Forms of vitamin C
This is a crucial issue which – luckily – isn't complicated at all. In general, if you want to enjoy all the benefits of vitamin C, you need to find a product containing stabilized vitamin C. Stabilized, meaning that it won't decompose before having a chance to absorb into skin, which is common for other, often older forms of vitamin C.
As far as I know, there is just one stabilized form of vitamin C, and you can find it by looking for the following ingredient: 3-0-Ethyl Ascorbic Acid. This means that your brightening face serum must be formulated with 3-0-Ethyl Ascorbic Acid to give you all the benefits I've enumerated in the paragraph above.
TOP 5 Vitamin C Face Serums That Are Worth Buying
Here is a short list of brightening serums that I wholeheartedly recommend. Let me describe them briefly.
1 Nanoil Vit. C Face Serum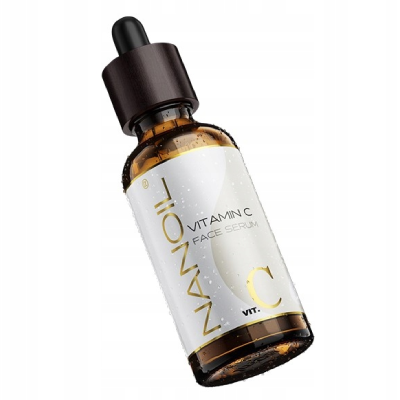 This is a brightening serum formulated with stabilized vitamin C. This means that you can expect it to work wonders, and it actually does do that. It penetrates skin deeply to make it look better and younger. Apart from having a portion of 3-0-Ethyl Ascorbic Acid, Nanoil Vit. C Face Serum contains another very unique ingredient – punarnava. In case you haven't heard about it before, let me briefly explain that it's obtained from the root of a plant native to Asia. Researches proved that it promotes cell turnover and leaves skin even-toned. In general this serum erases discoloration, fights back free radicals and reduces sagging. The serum's milky formula absorbs into skin quickly so you can follow it with makeup, if you happen to apply it in the morning, of course. To be honest, I'm surprised that it isn't high-priced at all. And you get as much as 50 ml, which isn't a common thing. Good job, Nanoil!
Visit – nanoil.us
2 Drunk Elephant C-firma Day Serum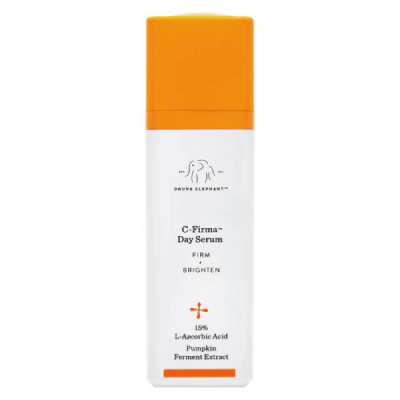 Rich formula and quick effects are two characteristic features of the serum brought out by Drunk Elephant. I know that it costs a bomb but – in my opinion – this is a really good brightening serum. I don't know of any other serum that contains fruit enzymes that help get rid of dead skin cells, revealing renewed and clear skin. Drunk Elephant C-firma Day Serum also combats dryness by replenishing water to the skin. It's made from pumpkin ferment and pomegranate extract for regenerated skin. Other precious ingredients such as L-ascorbic acid, ferulic acid and vitamin E promote a healthy and perfectly-looking complexion. I'd definitely buy Drunk Elephant C-firma Day Serum more often if it wasn't so awfully expensive.
3 Sesderma C-VIT Liposomal Serum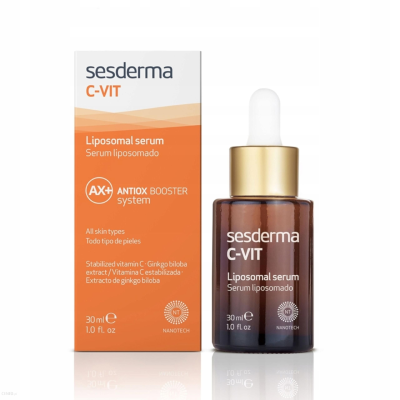 The main reason why I'm including Sesderma C-VIT Liposomal Serum into my list is because of 3-0-Ethyl Ascorbic Acid which – as you are already well aware of – brings the best results when it comes to removing blemishes from the skin. Basically, it works similarly to other vitamin C serums, but it costs more. I also need to add that it feels heavier when applied on the skin, and by saying that I mean that it needs more time to penetrate skin, and leaves an oily feel – at least on my face. But if you don't mind this, you should be satisfied with Sesderma C-VIT Liposomal Serum. It deals with sagging and dullness. Like other brightening serums, it promotes even-toned complexion and youthful-looking appearance.
4 Purito Pure Vitamin C Serum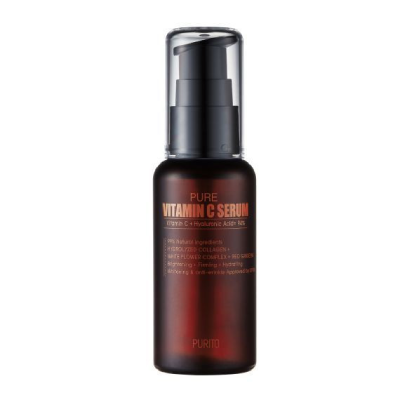 Here's a little bit cheaper brightening face serum that isn't any worse than the products mentioned above. Although it has less vitamin C to make room for plant-based ingredients, I guess Purito Pure Vitamin C Serum is a product worth trying. Why do I think that? Because I find it amazing at nourishing and moisturizing. Just look at the formula that is enriched with hyaluronic acid – a moisturizer that occurs in our skin naturally. When it comes to the plant ingredients, Purito Pure Vitamin C Serum has ginseng extract that has a rejuvenating effect, lotus flower extract that is another moisturizer and magnolia extract that fights bacteria and soothes skin. The only minus that I can find is that Purito Pure Vitamin C Serum sells out fast – it's really hard for me to buy it.
5 The Ordinary Ethylated Ascorbic Acid 15% Solution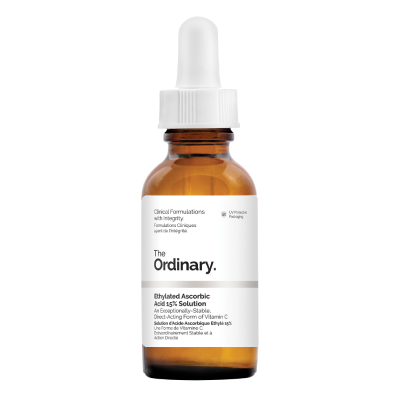 Finally, a product that needs no introduction. The Ordinary is a world-famous cosmetic brand, offering a wide range of top-notch products. To me, not all of them are worth recognition but – hey! – they aren't pricey! To me, Ethylated Ascorbic Acid 15% Solution is one of their best offerings. It suits all skin types. It's formulated with no water, no alcohol, no oil, no silicone and no allergens, which is overwhelmingly impressive. On top of that, The Ordinary Ethylated Ascorbic Acid 15% Solution is a 100% vegan product. Sadly, it's not formulated with stabilized vitamin C, yet somehow it's able to make skin brighter and even-toned. The most amazing thing about this product is the number of ingredients it's made up of. Do you know the exact number? It's just two: propanediol and ethyl ascorbic acid.