I can't imagine proper hair care without using a hair mask. This is the only product that actually makes hair stronger and better-looking. A decent hair mask not only repairs weak hair but also prevents damage. Instead of reaching for a random hair product, devote a while to finding a cosmetic that is able to satisfy all your hair needs – in the long run, only this approach makes sense. You know me, I'm a hair mask freak – that's for sure – and therefore I'll be happy to help you with this (often!) difficult task, which is finding the right treatment for your hair.
Briefly on my hair
I always match hair masks (and other hair care products) to my hair type. I can't say it's damaged, it's rather normal, yet fairly thin. I dye it on a regular basis, so if I didn't take good care of my strands, they would be in a miserable condition now. As it's typical of fine hair, it gets frizzy pretty quickly, especially when humidity rises. Sometimes it's dull, and I have so-called bad hair days, but I think it's common for everybody. Luckily, I've managed to find masks that help me get healthy hair.
The correct way of using hair masks
I never let a mask sit on my hair for just 5 minutes, even if this is what the label says to do. A 5-minute hair treatment is no treatment at all. You can't repair broken shafts in a couple of minutes – forget it. That's why I prefer to use professional hair masks that need at least 15-20 minutes to do their magic. Additionally, I always put on a foil cap and wrap my head with a towel to help the mask penetrate hair deeper and faster. Finally, I also make sure that I remove the mask completely from the hair. This is how I don't lose this much-needed volume. Sadly, it's easy to weigh hair down if you don't rinse the product completely.
Now, when you know everything, I think we can move on to reviewing my favorite hair mask.
The best! <3 Nanoil Keratin Hair Mask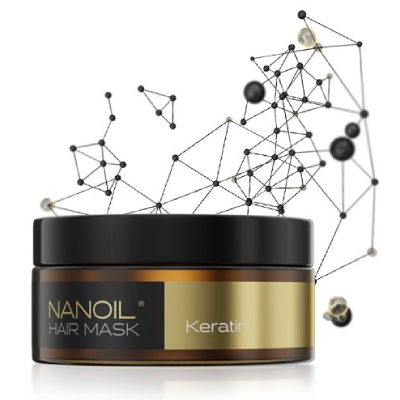 Let me present to you my absolutely favorite hair mask that makes my hair fabulous. WOW effect after every single use. It appears that pairing hydrolyzed keratin with panthenol gives incredible results – at least on my strands. Keratin is the basic building block of hair, and that's why strands look amazing when they are supplied with this protein regularly. Nanoil Keratin Hair Mask adds shine, strengthens and smooths hair. This product doesn't cost much, lasts long, is lightweight and has never, literally NEVER weighted my hair down. I can't even tell you how many jars of Nanoil Keratin Hair Mask I've used so far.
Lanza Keratin Healing Oil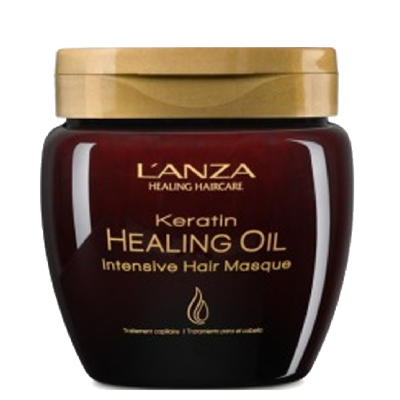 It happens to be incredibly troublesome to repair damaged and dry hair. When bleached, color-treated or dehydrated due to the sun or winter, you may try using a Lanza mask. Keratin Healing Oil is unique because it contains resveratrol, a potent plant-based polyphenol that not only combats free radicals but also takes care of damaged hair. I like how this mask adds volume to my strands, and how it fights dryness. It makes my hair smooth and shiny after a single use. Sadly, this product is horrendously expensive, thus I don't reach for it too often. Rarely do I buy it.
Ouai Thick Hair Treatment Masque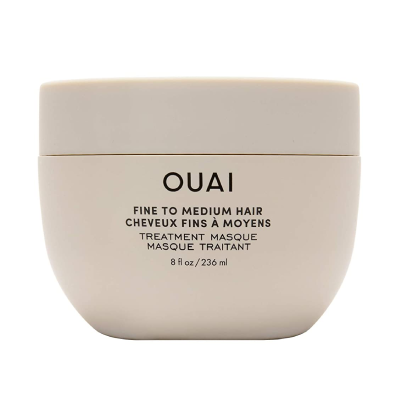 I think I may look like a snob but I need to present to you another pretty expensive but hella effective emollient hair mask. I like it for being rich in keratin and plant oils extracted from macadamia, almond and olives. Other ingredients that clearly have a positive effect on my strands are shea and illipe butter. At the beginning, I was pretty sure that this mask would weigh my hair down due to the butters. But to my surprise it didn't happen. Instead, Thick Hair Treatment Masque left me with soft, smooth, bouncy and good-looking hair.
Davines Nounou Hair Mask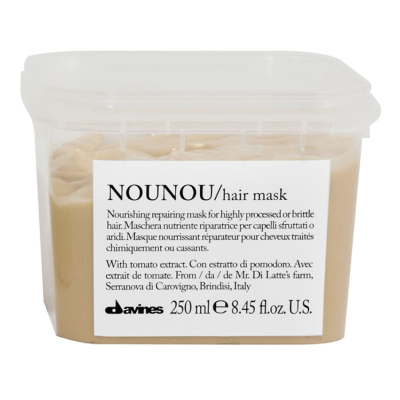 Davines – isn't it one of the top-recommended brands by professional hairdressers? To be honest, I don't know why because the effects aren't extraordinary. Don't get me wrong, Nounou Hair Mask works okay, but I just don't understand why this brand is so hyped. Anyway, before I found Nanoil Keratin Hair Mask I often treated my hair with Davines Nounou. It's formulated with jojoba oil, olive oil and vitamin E, which together give me good-looking and soft mane. If you spend your money on this mask, be sure that you always rinse it out thoroughly. Otherwise you may end up with a volume-deprived hairdo.
Global Keratin Lock Me Color Masque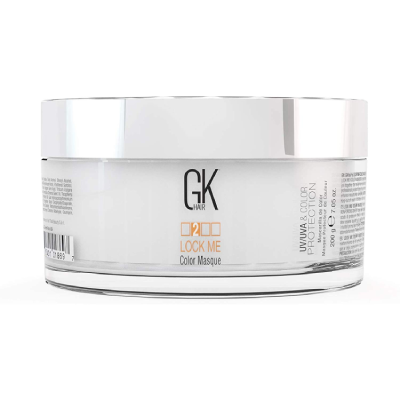 I've told you that I expose my hair to color treatments, and that's the reason why I have to show you a product designed for color-treated hair. Global Keratin Lock Me Color Masque is perfect for those who dye their hair on a regular basis and don't want the color to fade too quickly. I like it for having no synthetic substances or parabens. Its texture is creamy and smells really good. When you introduce it to your hair regimen, you can take it for granted that your wisps will become nourished and the color will stay true for long.
I think these are all of my favorite masks that have never disappointed me. Let me know if you would like to try some of them. I'd also love to hear how you take care of your hair on a daily basis. What makes you buy a particular hair product: price, ingredients or brand?