I always give luxurious cosmetics a wide berth because, in my opinion, it's the logo on the packaging we are paying for in most cases. To my surprise, Nanoil hair oil turned out to be an exception – natural, adjusted to hair structure, of beautiful smell; a cosmetic that is effective and works intensively. Definitely, this cosmetic is worth its price. Would you like to learn more about Nanoil?
My greatest surprise is the readymade oil which composition doesn't have to be analysed when it comes to fatty acids content because it has been already matched to my hair porosity, for me. I find it as a perfect option for all hair care lazybones.
PRODUCT DESCRIPTION
Nanoil is available in three versions targeting various structures of hair (low porosity • medium porosity • high porosity). Each of them is a perfect blend of vegetable oils combined in appropriate proportions. These compositions are enriched with additional vitamins as well as nourishing, conditioning and hair growth accelerating substances. Moreover, the oils contain neither parabens nor silicones. They are completely natural and can be directly applied to the scalp.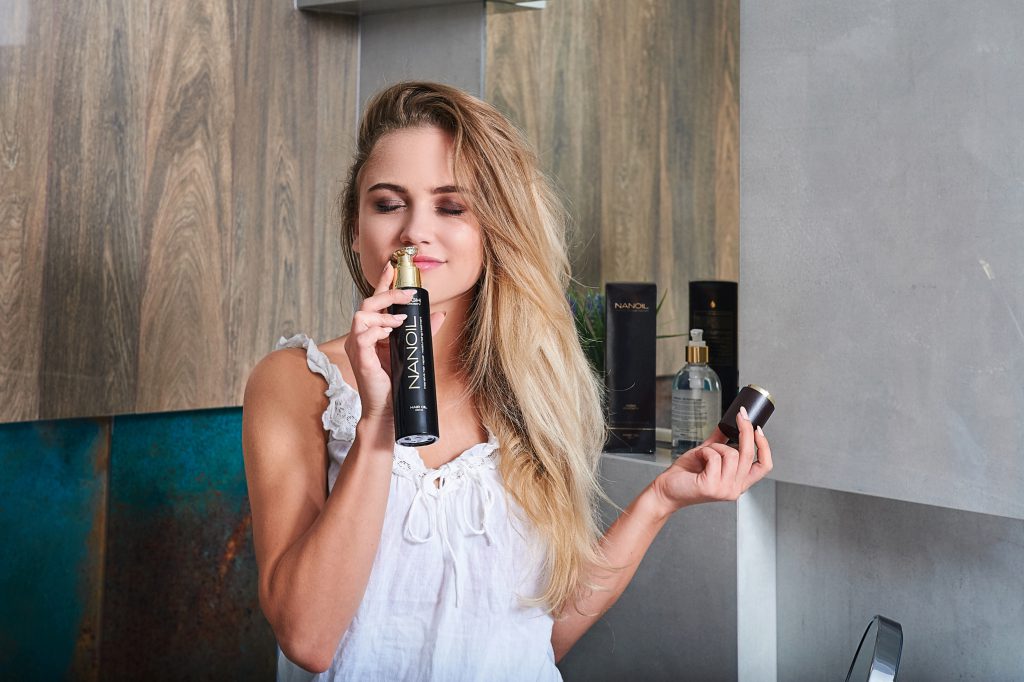 COMPOSITION AND PERFORMANCE
I'm not going to take up this entry's space to illustrate each of Nanoil oil's action. The blow-by-blow description concerning ingredients, particular oils used in a certain composition and, of course, performance of the products can be found on the official Nanoil website (www.nanoil.us). Hence, I suggest all of the interested to visit the webpage and, in the meanwhile, I'm proceeding with explaining more important issues.
How to choose the oil?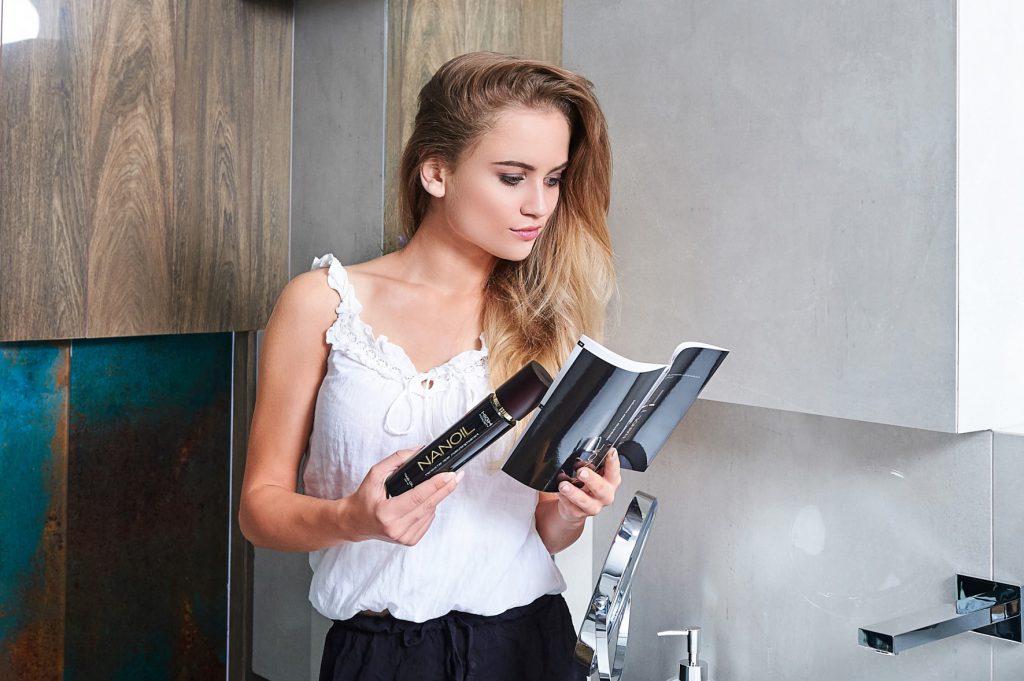 At the beginning, this issue seemed to be complicated because without paying a visit to a trichologist it's hard to define porosity of our hair. Complete certainty is provided by the microscopic examination of the hair. Also, and fortunately, we can do, so-called, hair porosity test which gives us clear information which type our hair is.
I also prepared a short pony for you 🙂
Nanoil for Low Porosity Hair – always when our hair is heavy, thick, straight, hard to style, with the tendency to get greasy or be affected by dandruff.
Nanoil for Medium Porosity Hair – appropriate if we have weakened, dry, brittle, matte, curly hair with the tendency to split ends, dehydration and fall out.
Nanoil for High Porosity Hair – the best if we have damaged, significantly dehydrated, thinning, lightened up, coloured, naturally curly hair with split ends.
I chose two oils for myself – for medium and high porosity hair. I wanted to give a go to both oils because, in theory, my hair porosity is medium, but I've also got this feeling that my strands are more damaged due to frequent dyeing. What I find worth mentionig, I paid less for two oils because I didn't have to cover shipping costs, for example. I rejected Nanoil for low porosity hair because it contains cosmetic butters (shea, babassu, cupuacu), which don't serve my hair and I know this from my own experience.
How to use oil?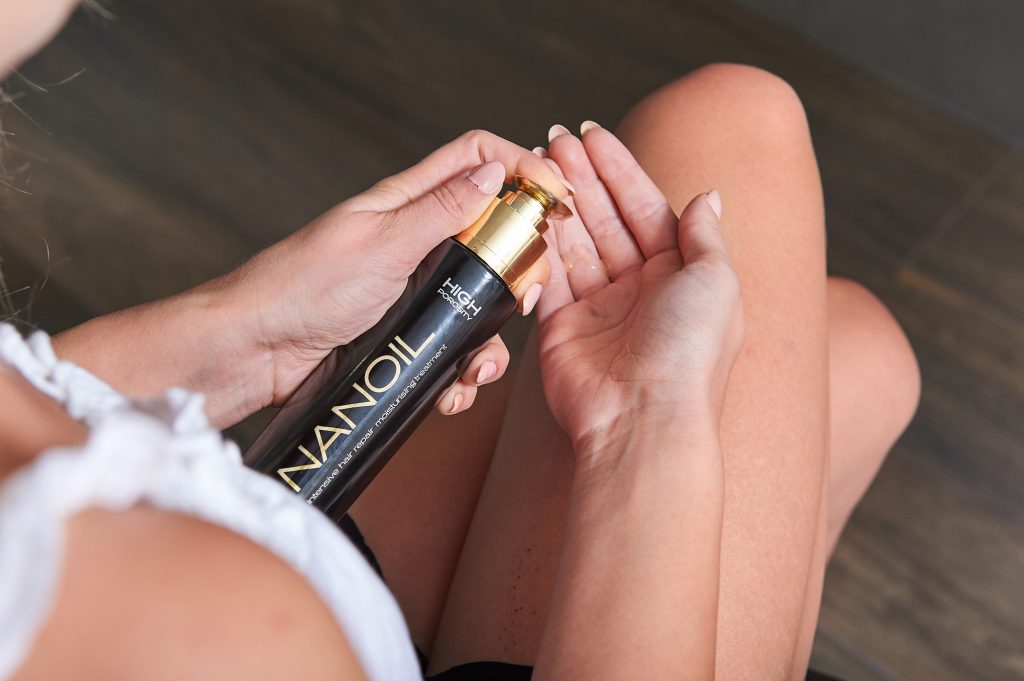 Nanoil is a light and fast-absorbing formula characterised by a very pleasant fragrance (I wish the aroma coating hair was more intensive). The most universal method of application recommended to all hair types is oiling the strands before washing. For more intensive action, you can apply the oil to damp hair since in this way the oils are said to penetrate hair better and work deeply.
Let me describe in a few steps the best way of using Nanoil.
Get 1-2 portions of the oil onto your hand (the quantity depends on your hair length).
Massage the oil into the scalp by doing a massage.
Distribute the oil along the entire hair length, as well.
Braid the hair and let the oil sit for an hour, two, or more.
Wash the hair as regular using a delicate shampoo.
Naturally, this is my suggestion of how to apply Nanoil, and I was inspired by the directions for use given by the producer. Of course, there's nothing wrong in you modifying the technique, especially if you adjust the quantity of the oil and method of application to your needs and hair type.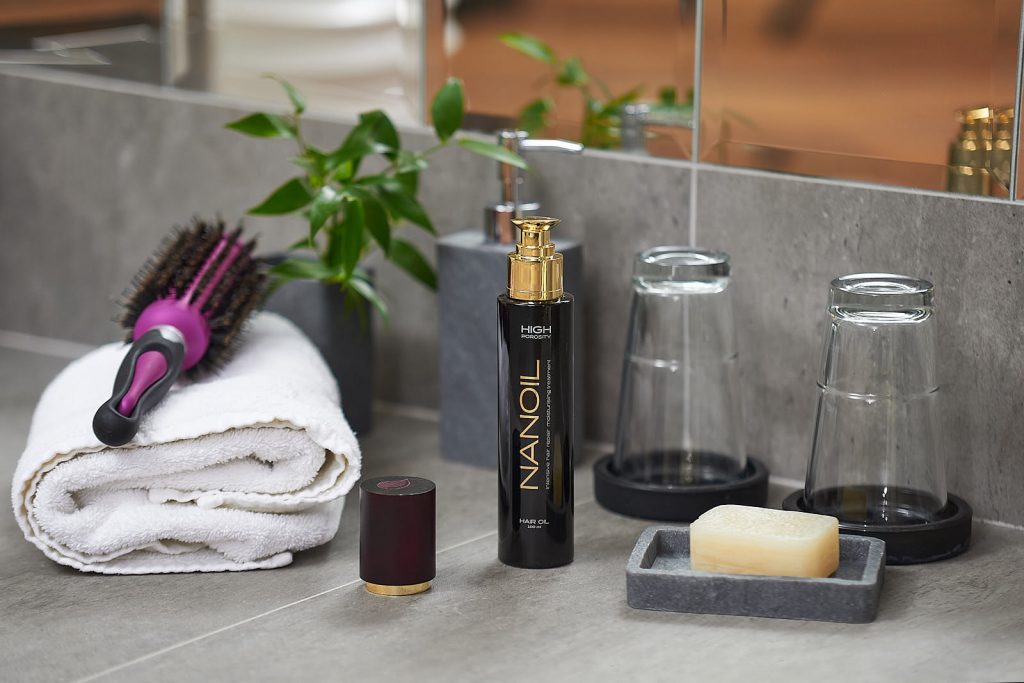 How does Nanoil work?
Here I can refer to the effects that I obtained thanks to using medium porosity oil and later high porosity oil. I want to start from stating that both oils serve my hair equally well. I guess, it's because both versions contain Argan Oil and Passion Fruit Oil enriched with other interesting oils like, for example, Evening Primrose Oil, Sweet Almond Oil, Macadamia Oil and Avocado Oil. Only natural ingredients blended in right proportions must work to our advantage, right?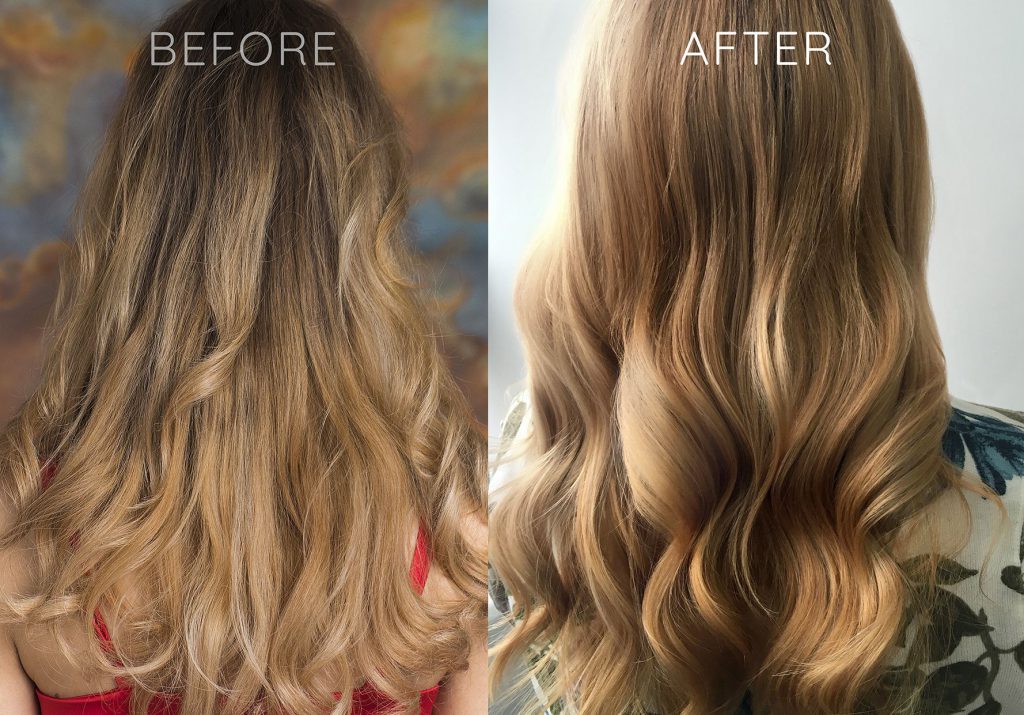 In my case, Nanoil hair oil:
provides hair with nourishment and hydration, which the strands lacked,
reinforces hair, which is why, it has stopped falling out; it has become bouncy,
facilitates hair styling and protects it against, for example, high temperature,
accelerates hair growth (my hair became 1 cm extended within the last 2 weeks),
beautifies hair and makes it full of shine, soft and manageable.
Bear in mind that depending on the oil's version you choose and what problems your hair is affected by, the oil can deliver different action. This is good because it means that this is the only product which really adapts the treatment to our individual expectations. To clarify, if your hair is unmanageable, the oil will facilitate styling and enhance the natural shape of the hairdo. If you suffer from dandruff, the oil applied to scalp will combat this problem. If your hair gets frizzy when exposed to humidity, the oil will close the hair cuticles, make strands disciplined and provide protection. To conclude, Nanoil works the way you expected it to do.
Extra information
Where to buy this marvel? The original Nanoil hair oil can be purchased on the official website. We can get it online only which, in my opinion, is very convenient because a delivery man brings the package to our door; we don't have to look for the product in every corner drugstore.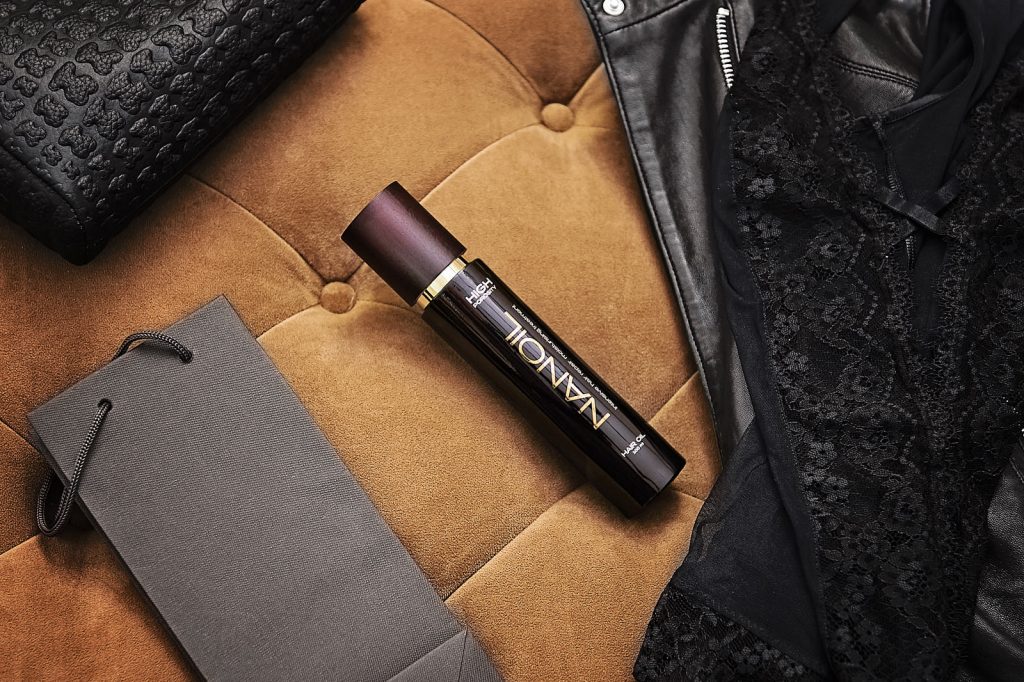 What entranced me most was the packaging of Nanoil – very solid, made of thick glass. It features a decorative cap made of wood and elegant golden pump. It's convenient although not very handy and you rather won't be willing to carry the bottle in your bag. Just look at the picture to understand how good this oil looks like.
Give me a hint whether you're going to feel tempted by Nanoil 🙂