Finding a suitable face serum, especially if your skin is redness-prone, is a freaking challenge! Sadly some popular skincare products upset skin instead of calming it down, which is frustrating. Luckily, I've walked down that road, testing numerous anti-redness / soothing face serums. Now I feel competent enough to help you find the right product faster.
Factors I pay attention to while shopping for a face serum
Face serum is a beauty product I use either once or twice a day. This is why I need it not only to match my skin type but also to be formulated with the right non-irritating substances. So, before spending my money on a face serum, I always check
whether its formula is short and free from unnecessary fillers.
if it has at least one of the following naturally-derived ingredients: horse chestnut, Asian pennywort, vitamin C, vitamin K.
its aroma (I hate intense fragrances).
the size and price.
This is what helps me make the right choice. Surprisingly the majority of regular face serums available in stores don't fulfill these requirements, which is good. Why? Because it narrows down the number of products I need to choose from 🙂
Which anti-redness face serum to choose
Here is a short list of the best care products that soothe skin and remove redness. If you check the reviews on other blogs and pages, you will see that there are other users for whom the below face serums turned out to be good too.
NANOIL, ANTI-REDNESS FACE SERUM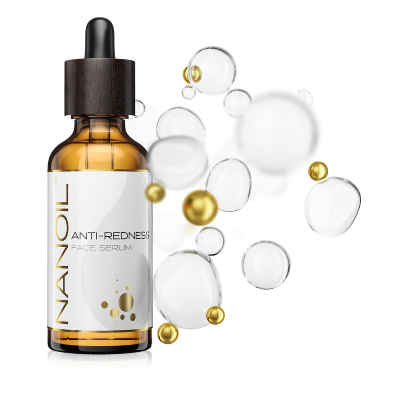 I had known Nanoil brand before I came across their anti-redness face serum. The very first thing that caught my attention was the design. Honestly, to me, it looks like some luxurious product but when you check the price, you'll see that it's totally affordable! The serum comes in a 50-ml bottle which doesn't make me feel bad about using it twice a day because I know that I won't run out of it fast. My skin soaks it up quickly, meaning that I don't need to devote more time in the morning for my skin regimen. Instead of greasiness, I feel relaxed skin which is owed to linden and cypress extracts. Horse chestnut extract seals weak capillaries and minimizes their appearance. So far, Nanoil Anti-Redness Face Serum is the best non-invasive way to erase spider veins and deal with blotchy skin problems. On top of that, my skin is now even-toned, looks healthy and radiant. Here comes some good news for those who need to use an anti-age product on a daily basis: Nanoil serum contains punarnava extract which is a potent antioxidant able to combat free radicals, thus delaying ageing.
Learn more: www.nanoil.us
EXUVIANCE, ANTIREDNESS CALMING SERUM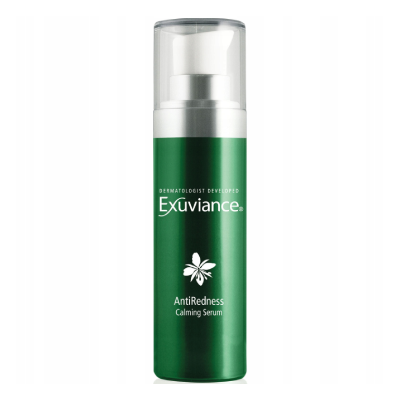 This serum serves couperose skin with rosacea. Even though I don't suffer from the latter, I was delighted with this Exuviance's offering. I like its pleasant, cream formula that can be worn under makeup (so you can put it on in the morning) as well as introduced to your evening routine. As the name promises, AntiRedness Calming Serum soothed my irritated skin in a snap. Even though other effects needed more time to become obvious, I was happy with what this product managed to give me eventually. Over time, there were no spider veins or redness showing on my face. I really like the fact that when I used this serum regularly, I had no problems with blotchy skin. I chose Exuviance AntiRedness Calming Serum because it contains horse chestnut extract, as well as willow tree extract that strengthen the walls of blood vessels. I had just one bottle of this amazing serum, and if you want to know why I didn't repurchase it, then just check its price. Maybe I'll order it again if I get some promo codes.
REN, EVERCALM ANTI-REDNESS SERUM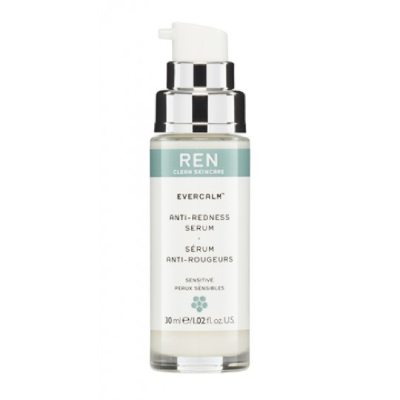 Formula is what I like the most about this serum. Evercalm Anti-Redness Serum is made up of ingredients that have numerous benefits for couperose skin, and these are vitamin E, sea algae extract and arnica extract. These naturally-derived substances penetrate deeply to reach blood vessels in order to repair and strengthen them. Over time this serum is even able to minimize the appearance of spider veins, which is great. What I don't like about this product is the three oils that make the texture quite thick and greasy. Even though skin seems to absorb the serum fully, it isn't a good idea to apply it prior to color cosmetics. The skin gets shiny (don't confuse it with "glowing"). Nevertheless, Ren Evercalm Anti-Redness Serum is okay as a night soothing face serum. Oh, I almost forgot! It also has an anti-age effect.
MEDIK8, CALMWISE SERUM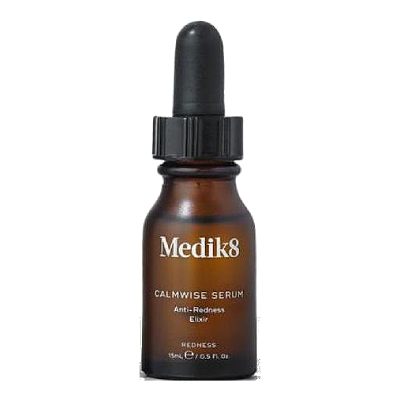 This tiny bottle knows how to impress me! It's literally tiny because it holds only 15 ml of the serum, which means that you won't have a chance to enjoy a long treatment (even if you use it topically). I finished the bottle within a month, or even less. Considering that Medik8 Calmwise Serum isn't a budget-friendly product, I wasn't happy that I ran out of it so quickly. Nevertheless, I liked how it works. As one of the few skincare products, it succeeded at reducing not only spider veins but it also dealt with erythema. I should add that for the couple of weeks I'd been using it, there were no blemishes popping up, which I owe to anti-inflammatory sage extract. I can tell you that if the serum was bigger and cheaper, I'd buy it again. I'm not a cheapskate but I'd rather get something for less money that gives me the same effects.
I hope I helped you find your next anti-redness face serum.