Hello! 🙂
Probably you've already heard of eyebrow lamination. It's an extremely popular treatment and it turns out we can do it ourselves at home. Yep, DIY eyebrow lamination is a fact! I've tried it myself. It's a fantastic option for those who want to save money spent on salon treatments or simply enjoy being independent and resourceful in a beauty routine.
Dreaming of flawless, voluminous brows? Then you must try at-home eyebrow lamination! What's necessary to make it happen? A good eyebrow lamination kit for sure. I came across some popular picks and finally chose Nanobrow Lamination Kit. Below you can find my review of the set and some useful tips for laminating eyebrows at home. Enjoy reading! 🙂
At-home eyebrow lamination kit Nanobrow – product details
Product description: Nanobrow Lamination Kit includes all that's essential for a terrific brow lift. The effect lasts for up to 6 weeks. Cost-effective, precise and easy to use, it lets you perform several treatments. Many weeks of neat, precisely-shaped brows, and no more unruly hairs!
My first thought – WOW, one kit is good for over 10 uses! Its price = cost of just one treatment at an esthetician's. Well, I added it to the cart right off. And I became a brow stylist myself!
Let's get down to details now. Nanobrow Lamination Kit equals comfort and savings. The effects of eyebrow lamination are noticeable immediately and they last for around 6 weeks. The eyebrow hairs stay in place, which means perfectly shaped brows. They have amazing shine, are stronger and deeply nourished. Eyebrow lamination allows us to spend less time on everyday brow styling routine. Brows look stunning all the time and you feel more confident 🙂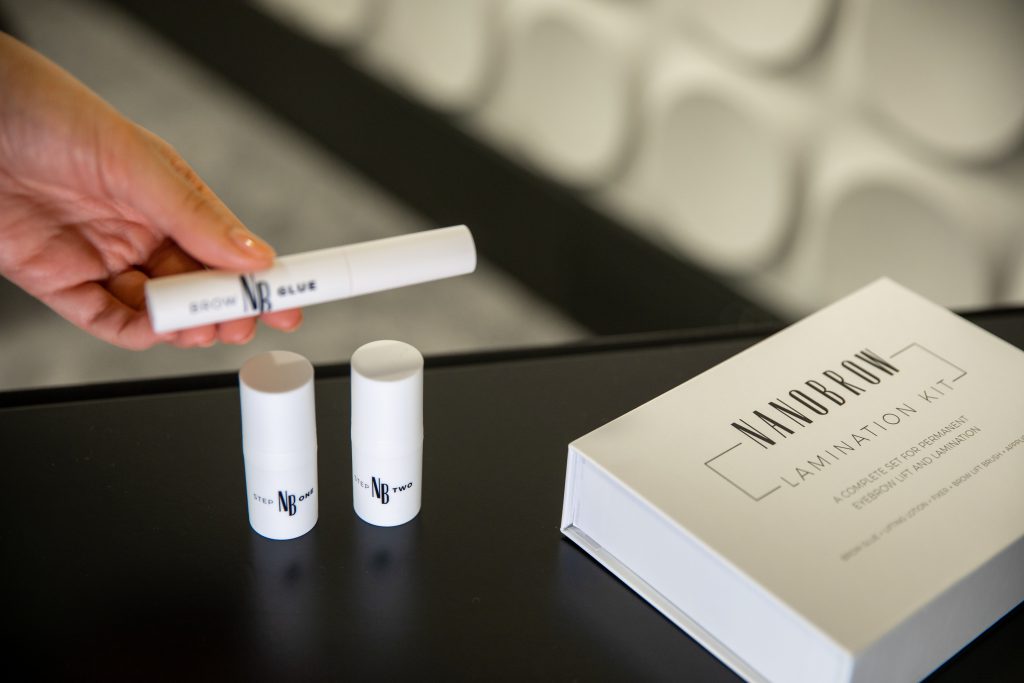 The eyebrow lamination kit from Nanobrow includes all necessary tools, accessories and products:
Brow glue
Lifting lotion
Fixer
Brush
Spoolie
10 disposable applicators
Before I tell you how to laminate eyebrows at home, let me answer three most frequently asked questions:
What is eyebrow lamination?
Eyebrow lamination is a beauty treatment which involves shaping and holding eyebrows thanks to special preparation with thioglycolic acid plus moisturizing and strengthening substances. During eyebrow lamination, the used product opens the hair cuticle scales which enables achieving the desired brow shape.
Does eyebrow lamination cause damage to eyebrows?
No, it does not. Eyebrow lamination helps us get thicker, more shapely, defined brows, as well as leave them easier to manage and keep them under control for a long time. The treatment is safe and non-invasive. Slight feelings of discomfort or redness may occur in the eyebrow area after the treatment but should ease completely within a few hours.
Who can do eyebrow lamination?
Anyone who wants thicker, more voluminous brows that are easier to style and stay in place for weeks can go for eyebrow lamination. The treatment is specially recommended for people with naturally thin, sparse or unmanageable eyebrows. It's also great for bushy, unruly hairs.
How to do eyebrow lamination at home?
With the Nanobrow Lamination Kit, it's extremely easy. Every step is fully explained and every bottle is marked – there's no way it goes wrong! Spare some free time to enjoy brand new, flawless eyebrows 🙂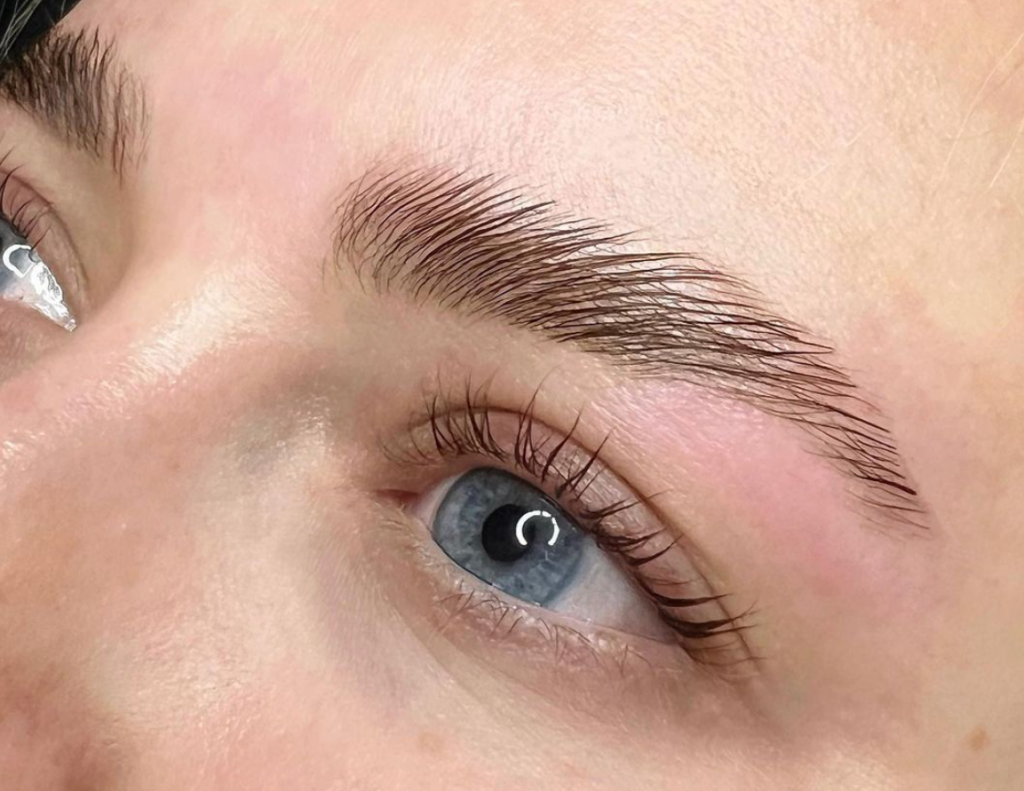 Step-by-step tutorial:
Cleanse the brows using an oil-free product like micellar water.
Scoop some glue (Brow glue) using an applicator. Leave it on for 25 to 50 seconds.
Use a brush to apply the lifting solution (Lifting Lotion – Step 1). Brush the eyebrows into the desired shape. Leave it on for 5 to 8 minutes.
Wipe off the product using a dry cotton pad.
Use the brush and apply the fixing solution (Fixer – Step 2). Brush the eyebrows into the desired shape. Leave it on for 5 to 8 minutes.
Wipe off the product using a wet cotton pad.
Finally, comb through brows and enjoy lovely arches!
It's so easy, right? Pop into nanobrow.us and get your own eyebrow lamination kit!
And share your results please.
Bye bye! 🙂